About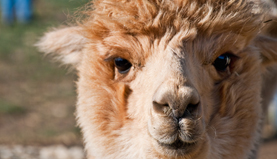 Alpacamundo, LLC is owned and operated by Brad and Kathryn Ray. Founded on September 29, 2007 when we purchased the most beautiful boy we'd ever seen. We have since grown to a herd of 13.
We are a full-service alpaca farm with an emphasis on producing quality-fleeced Huacaya Alpacas.
Kathryn is a trained shearer, spinner, weaver, engineer and business process developer. She has a very calm and logical approach to problem solving.
Brad spent many years in big box retail management and is now a professional wheelchair racer.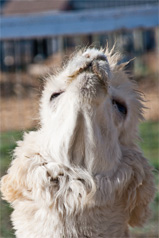 How We Started
A trip to the New Mexico State Fair in 2004 planted a seed. Kathryn met her first alpaca, and thought, "What in the world is that? It looks like Dr. Seuss made it up." A few years later Kathryn and Brad founded Alpacamundo with the purchase of Enchanted Sky's Charlie Brown.
Kathryn wanted to be a farmer and a business owner since she was little. She became an engineer and worked on many diverse projects including the Space Shuttle, Laser Systems, distributed energy and airplanes. She is currently working on technology implementations and process improvements during her day job.
Brad spent most of his career in retail management, giving it up to be a full-time wheelchair racer. His favorite distance is the marathon, having now completed more than 60. He was on the US National Paralympic Team in 2011 and named to the US ParaPanAmerican team the same year, competing in the 800m, 5000m and Marathon. Initially, he wasn't so sure about Kathryn's idea to raise alpacas but agreed to meet some and quickly fell in love.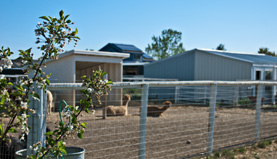 Where We Are
We are located on a small piece of land between Fort Collins and Loveland, Colorado; a short drive to the Rocky Mountains, Rocky Mountain National Park and Estes Park.
2012
| | |
| --- | --- |
| April 28 | Sheared the Alpacamundo herd |
| January 1 | The Alpacamundo herd is 13 alpacas |
2011
| | |
| --- | --- |
| December 25 | Euthanized Alpacamundo's Eduardo due to Advanced Lymphoma. This was especially difficult since he was just a couple of years old. He had beautiful, fine, white fleece and a sweet disposition. |
| May 14 | Sheared the Alpacamundo herd |
| March 27 | Two Livestock Guardian Dogs join the farm. KayaKyi Annapurna (Wonton) and KayaKyi Bala (Noodle) are a pair of half-sister Tibetan Mastiffs from KayaKyi Tibetan Mastiffs in Fountain, Colorado. |
| January 1 | The Alpacamundo herd is 13 alpacas |
2010
| | |
| --- | --- |
| September 6 | Alpacamundo's Apple is born. The first cria born under our watch. |
| May 22 | Sheared the Alpacamundo herd |
| January 2 | We met our vet for the first time and must put Luna Vella's Jane to sleep. We knew when buying an older alpaca that this time would come sooner rather than later, but we were a little shocked to have it occur right away. |
2009
| | |
| --- | --- |
| December 31 | The Alpacamundo herd arrives at our own farm in Loveland, Colorado and numbers 13 |
| October 1 | We close on our very own farm in Loveland, Colorado |
| July | Kathryn sheared her first client herd in Colorado |
| June 20 | Our home in Albuquerque is sold and we moved to a small rental house in Greeley, Colorado while we continue searching for our farm. |
| June | Kathryn sheared her first client herd ever. In Taos, New Mexico. |
| May 16 | Sheared the Alpacamundo herd |
| February | Our home in Albuquerque is listed for sale |
| January 1 | The Alpacamundo herd is 8 alpacas |
2008
| | |
| --- | --- |
| November | Brad and Kathryn are suddenly location independent and decide to locate our farm in Northern Colorado |
| August 22 | Alpacamundo's Augustus was born; the first cria born to the Alpacamundo farm |
| May 26 | Kathryn sheared our herd for the first time |
| April | Kathryn learned to shear alpacas at Light Livestock Equipment in Jay, NY |
| January 1 | The Alpacamundo herd is 2 alpacas |
2007
| | |
| --- | --- |
| September 30 | Organized Alpacamundo, LLC |
| September 27 | Purchased Enchanted Sky's Charlie Brown and thus began our life as alpaca farmers |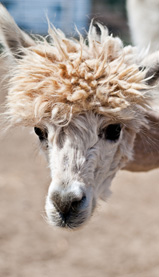 Affiliations
Alpacamundo is a proud member of the following organizations: